I know you think that copiers are boring and business related. You want to get on with your life and try to ignore their existence.
But it's not always possible. Most of us use them daily, whether we like them or not. If you run a business — you will most likely be around commercial printers and copiers at least once in a while.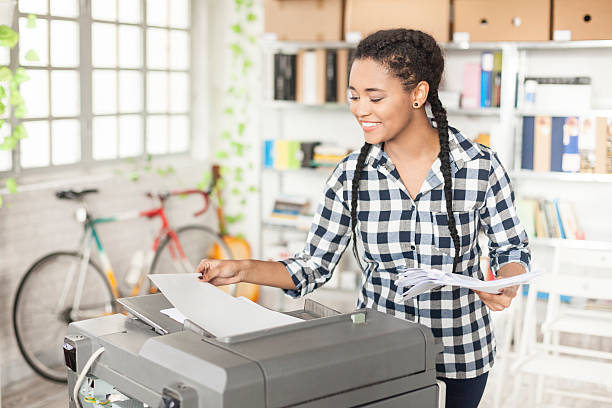 The cost of a commercial copier can vary widely based on the model you choose, the features it offers, and the number of copies you need to make. Factors that affect the price include:
The following are some factors that affect the price of commercial copier cost:
Type of copier: There are different copiers available in the market. The prices vary according to their features and functions. If your office needs a high-end machine with many advanced features, you will have to spend more money on it. The type of copier also affects the repair and maintenance costs.
Model year: Newer models tend to cost more than older ones as newer ones have better features, speed, and efficiency than older models. Models released within the last two years may cost $500-$600 or more per month, depending on their features and functions.
Copier size: Large format printers cost more than small format printers because they have larger print engines and larger paper trays which are expensive compared to smaller printers that use smaller paper trays and print engines.
Number of Copies Needed: How many copies do you need? Depending on the size of your business, this number can range from hundreds per day to thousands per day (or even more). The more copies needed, the more expensive it will be to rent or purchase a printer that can easily handle such high-volume production.
The complexity of the Project: Are you creating an elaborate brochure or just printing out invoices? The complexity level can vary greatly depending on the project you're working on and how much time is needed to complete it properly.
There are two main types of commercial copiers: digital and analog. Analog machines use traditional methods to make copies, while digital machines use electronic technology to replicate documents. Digital machines are more expensive than analog machines because they're more complicated and require more maintenance.
How Much Does a Commercial Copier Cost?
Office digital copiers range in price from $1,500 to around $80,000, while many well-liked versions cost less than $10,000 on average. Typically, a used commercial copier is 50% less expensive than a new one.
There are a ton of options available, and it all depends on the functionality you require. Because there are many different digital copiers on the market, you can select the exact characteristics that work best for your organization.
Commercial Copier Cost Ranges
Commercial copier costs vary greatly depending on the type of machine and the level of quality needed. You may be looking at the cost of a used machine or a new one, or you may be looking for a refurbished model.
The price of the digital copier is affected by all of the aforementioned elements and others. Because there are so many different pricing alternatives, you can usually decide which features are most important.
To assist you to determine what you should anticipate pay based on your demands, the full price range is broken down into the following smaller segments:
$1,500-$3,000: Usually, they will be low-end commercial equipment. These digital copiers will only offer the most fundamental office functionality and can print at a rate of 20 pages per minute, despite being significantly more powerful than home devices..
$3,000-$10,000: Most common features like automatic feeding, network connectivity, and printing options will be present in models in this price range. Typically, these machines can print up to 35 pages per minute.
$15,000-$20,000: MFPs in this price range will offer sophisticated capabilities, including card reader capability, stapling, hole punching, and direct-to-email functions, and print at a rate of 35 pages per minute, which is comparable to the preceding price range.
$40,000-$60,000: MFPs in this price range are appropriate for large businesses that must print at up to 56 pages per minute. Everything a company would require for its operations will be fully included on these devices.
$80,000 and above: These printers can print over 100 pages per minute faster than most businesses require unless they specialize in printing.
How Much Does a Digital Copier Cost?
The new digital commercial office copier is a high-speed copier designed to address the needs of small and medium-sized businesses. With speeds of up to 60 pages per minute, it can easily handle large workloads, and its paper capacity gives you enough room for multiple jobs at once.
The integrated print server allows you to share the device between multiple computers, and the flatbed scanner provides additional functionality when you need it.
They will include a powerful processor that helps to enhance performance and reduce downtime. In addition, this device features an intuitive interface that makes it easy for users of all skill levels to operate.
Digital copiers are a very popular office item that can reduce your office's printing costs by as much as 50%. The cost of digital copiers will vary depending on the type of machine you want, but most of them cost between $1,000 and $5,000.
The price of a digital copier can vary depending on how many pages it can print per minute (ppm). Many businesses use high-speed machines that can print up to 60 pages per minute. These machines are typically more expensive than slower models, but they are worth their price tag because they save time.
If you don't need to print large volumes of documents, then a basic model will work just fine. You don't need to spend thousands of dollars on a high-end machine if all you're going to do is copy files or documents that fit on one page at a time.
How Much Does Used Commercial Copier Cost?
Generally, a used copier costs less than a new one since it has already been purchased and used by an organization that upgraded to a newer model.
However, some models may cost more than others due to their features or high-quality printing capabilities.
A standard new copier will cost around $1,000 to $5,000. With the rise in technology, many people are now opting for high-end models that cost anywhere between $6,000 and $8,000. If you want to buy a used copier, you can expect to pay anything between 20% and 60% less than the retail price — depending on how old and well-maintained it is.
Other Costs To Consider
Once you buy or lease your commercial copier, you'll want to consider many other costs. The cost of paper, ink, and maintenance can add up.
Ink and paper can cost between 1¢ to 9¢ per page, but this price varies depending on the copier/printer you have. With a commercial-grade color copier, you should expect to spend around 5¢ per color copy, while a black and white copier would be closer to just a few 2¢ to 3¢ for a black and white copy.
Paper costs vary widely depending on the type you use. It will usually cost between $0.01 and $0.05 per sheet for standard paper, while cardstock can cost around $0.10 to $0.35 per sheet.
Conclusion
Adding one or two printers and buying brand-new ones may make the most financial sense for a small business. Used copiers will be the way to go for those looking at larger purchases.
However, everyone needs to consider their needs, so consider the total cost of ownership when making your buying decision.